11 modern options to have a multifunctional bed!
A totally original bed that make the most of your space. Is it possible to have one of these at home? The answer is yes, today our focus is on bunk beds (beds with two levels) frames with built-in step. We will present a selection of the best designs for particular bunk beds, showcasing great diversity of styles and configurations that will surely encourage you to buy it or do it for its benefits.
One of the best aspects of bunk beds is their seemingly limitless variety of configurations and feature sets. With everything from built-in desks to hidden storage, it's not surprising to see such a range of models equipped with stairs.
Serving a dual purpose, the stairs not only allow for easy top bunk access, but can often conceal extra storage in the form of drawers within the steps.
We hope you find our selections useful as either a guide or jumping off point. Anyone looking to purchase a new bunk bed for their home would do well in the right direction.
In our gallery of ideas you will find models based on appearance, compilation and utility, in an effort to help reduce the search or simply to start with the ideal design.
1. Canwood Ridgeline Bunk Bed with Built-In Stairs Drawers, Twin Over Full: This espresso-toned modern style bunk bed features curved supports and perpendicular drawers, facing outward, built into the stairs. A twin bed sits on top, with a full size mattress below.
2. Twin Doll House Stair Step Loft: This is a litter for girls, with a stair-equipped bunk bed in the style of a bright and colorful dollhouse, replete with pink and purple styling with yellow trim, plus a slim dresser built into the side.
3. Bedz King Stairway Bunk Bed with 4 Drawers in The Steps and 2 Under Bed Drawers, double over full, in cappuccino: This rich coffee hued wood bunk bed features a larger lower bed, as well as steps with large bin-style drawers built in. Thin vertical planks surround the frame for a visually interesting look.
4. Furniture of America Metal Bunk Bed Side Ladder Bookshelf, Silver and Black Finish: Here we have a unique piece: this is actually a stair frame meant to lock into a complementary metal framed bunk bed, alleviating the need for a ladder. This frame features shelving room for open storage beneath the large steps.
5. Utica Lofts Dorm Twin Loft Bed with Storage Staircase: This light natural wood loft bed features a full set of stairs with drawers built in, plus a full size desk below the top bunk. With plentiful drawers and shelving, the desk adds immense functionality.
6. Sierra Space Saver Twin over Full Bunk Bed with Desk and Stairs: This uniquely shaped model features a lower bunk set perpendicular to the frame, plus stairs on the side with built-in drawers. A fully functional desk is mounted on the opposite side, with its own set of drawers.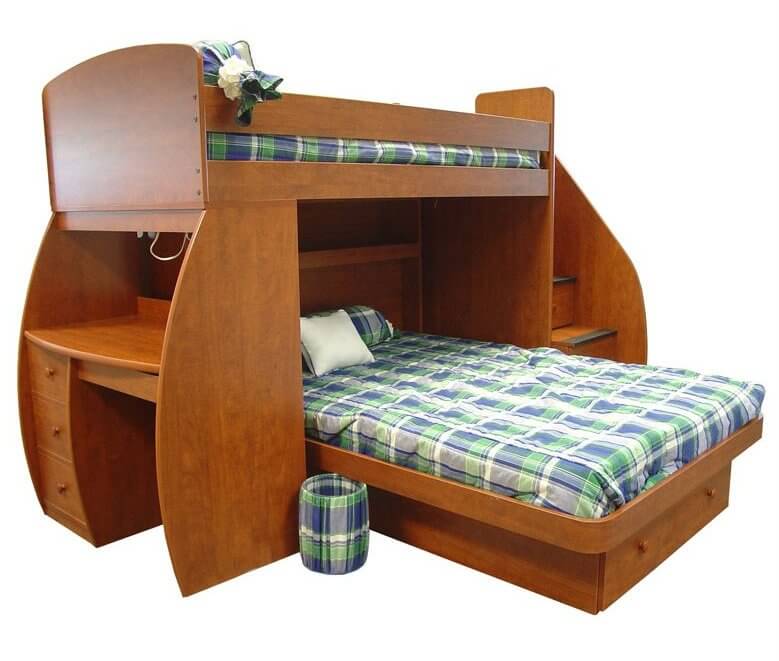 7. Sierra Wood Twin Over Full Loft Bed Here we have another bunk bed frame with perpendicularly mounted lower bed, featuring a large set of stairs on the right side with built-in drawers, plus pockets of storage on the external side. A full dresser is built into the other side of the frame Wood, drawers and stairs are the characteristics of this bunk, easily replaces a closet and helps to have everything in one place
8.Furniture of America Milton Twin over Full Bunk Bed with Storage Drawers In Dark Walnut This elegant bed frame in a modern, angled construction features a third bed, a trundle, tucked beneath the lower bunk. Stairs on the right side of the frame conceal side-mounted drawers.
9.Schoolhouse Stairway Loft Bed In Pecan This l-shape pecan-tinted natural wood frame bed features a large set of stairs with built-in drawers on the right side, flanked by an elaborate staircase railing. Perpendicularly mounted lower bunk is detachable, while a computer desk is built into the other end.
10. Schoolhouse Stairway Loft Bed In Chocolate This stately bed frame in dark stained hardwood features a similarly elegant set of stairs with drawers built-in, wrapped with a traditional staircase railing. With a desk on the opposite side and detachable lower bed, it's a versatile piece of furniture.
11. School House Storage Junior Loft with Stairs In Pecan This rich, sleek natural wood framed loft-style bed features an abundance of storage, with removable shelving and dressers mounted below the bed, plus a set of stairs with built-in drawers.
Do not forget to share your opinion!