Want to enhance your backyard landscaping with a garden but not sure which foliage style is right for you? Consider starting a vegetable garden. Growing your vegetables at home will add variety to your diet and provide an enjoyable hobby. Whether you're planting a few herbs on your small outdoor patio or a full-blown-victory garden in your front yard, we have a few tips to get you started with a garden that's both useful and beautiful.
What To Know Before Growing
Before you go out and buy seed packets and starter kits, it's important to consider a few gardening factors.
Where you're located and what sort of planting climate you are working with is important. This is driven almost entirely by your geographic location. You will understand the temperature extremes in your region so you can know which plants will flourish and which will freeze or burn.
When starting or expanding your vegetable garden, it's critical to know how much square footage you have available. If you don't have an acre of land, you still can have a perfectly productive plot (or container) full of veggies. Starting small is a great idea for beginners, especially since growing vegetables takes time and dedication.
Because space is the most essential factor in determining how much (and how frequently) you'll plant in your garden, we've compiled a few suggestions for maximizing your space and growing season.
Raised Beds
Raised beds help to maintain soil content and water drainage while also protecting plants from garden critters. However, if you build a few raised beds, avoid using pressure-treated lumber. Look for rot-resistant wood like cedar or other materials, such as repurposed wood, bricks, or even galvanized metal tubs. You may also get raised bed kits online if you choose the prefab route.
In-Ground Beds

While planting vegetables directly in the ground may appear to be the simplest way to start a veggie garden, controlling for variables such as soil nutrients and water drainage can be more difficult when planting in the ground. You'll also need to protect plants against critters, pests, and diseases that can spread quickly.
In-ground beds, on the other hand, can be beneficial if you want to maximize your growing space or plant a wider variety of plants.
Container Garden


Growing your vegetables does not require a lot of room or money. Pots and planters are perfect vehicles for growing veggies, and you may utilize containers you already have in your garage or garden shed. Growing your food does not have to be expensive; you may have fun sourcing containers from markets or friends and family and then have even more fun planting your vegetables and seeing them thrive in your inexpensive mismatched pot collection.
Hanging Planters

Growing vegetables in hanging planters is an excellent space-saving solution that can be accomplished with a few growers or in bulk, as seen here. Using hanging planters allows you to keep different types of vegetables separate, which benefits the plants. It will, however, make your life easier if other vegetables require further treatment in terms of the frequency and amount of watering they require.
Planters, which can become quite heavy when filled, are best hung from metal frames for strength and stability. Depending on the look you want and the amount of money you want to spend, the planters themselves could be made of wood, metal, or plastic.
Planting Table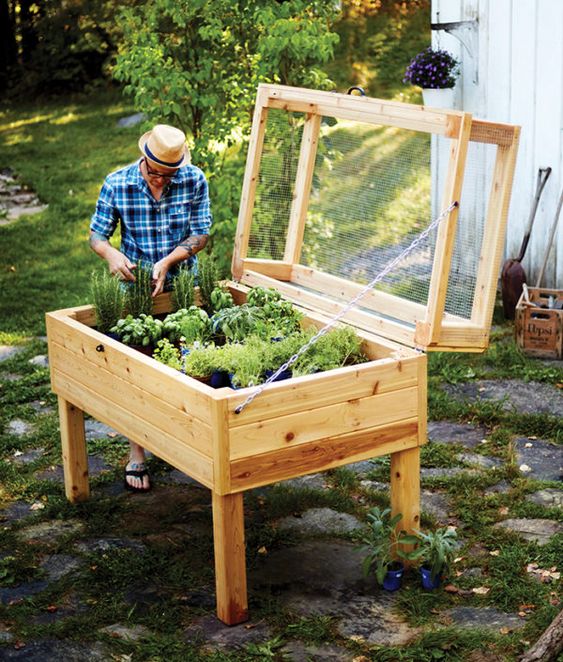 Planting tables, while quite expensive, is an excellent way to grow vegetables without taking up valuable floor space. Planting tables come in various sizes to fit your needs; the only drawback is that they are shallow and thus unsuitable for growing vegetables that require a lot of growing space beneath the soil. Because they are portable, they can be moved into a greenhouse during inclement weather or moved around your yard to a more suitable location if your vegetables are not thriving.
Busy Balcony

Instead of a backyard, you can use your balcony to house your vegetable garden. You can be selective with your vegetables, growing only those that require little space, or if you want to grow a wide variety of produce, you can maximize growing platforms by being creative with your space. Balcony planters can be attached to the railings of a balcony, creating a growing space that did not previously exist. You can also add more growing space to your balcony by placing planters on shelves, affixing planters to the walls, or using hanging planters.
Window Boxes

A window box garden will give you the full cottage effect. Fill one with herbs and place it near your kitchen window for easy access to your favorites while you're cooking. These small gardens are ideal for small shrubbier vegetables such as lettuces or even groups of edible flowers. In general, you should avoid growing vines and root vegetables such as carrots.
Sprinkle Your Veggies In

Interplanting your veggies in flowering plants is a great idea. Cabbage and lettuce are excellent choices as they work well as elegant and edible ground cover. Onions and garlic are also great for deterring critters when planted along the edges of your garden. Herbs are another great addition to any garden because their fragrance repels pests like mosquitoes. Flowering plants keep a landscape looking bright and lush while attracting pollinators such as bees and butterflies. Tea lovers will appreciate chamomile and lavender, while pansies and lilacs are perfect for decorating cakes and pastries.
Vertical Garden

If surface area is an issue, consider going vertical. There are several options for stacked planters that will allow you to grow various herbs and greens with little soil and space. You don't need to buy a kit to make the most of the height in your garden. Pergolas and trellises are ideal for growing vinier vegetables like cucumbers, zucchini, and squash. Hanging pots or growing bags off your fence can also provide extra space with little effort.
Garden with Border Fence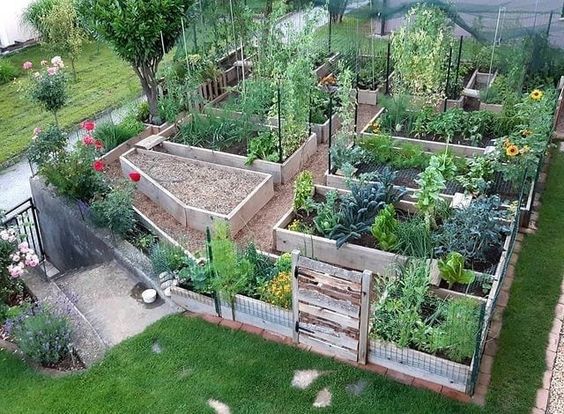 A vegetable garden border fence can serve several functions at once. For one thing, it can keep rabbits and other pests from destroying your plants. A garden border fence adds visible separation to your yard. Depending on the material, fencing can provide a windbreak for more delicate veggies or seedlings, as well as partial shade for others.
Greenhouses

The humidity in a greenhouse makes for an ideal vegetable-growing environment, and you will find that your vegetables thrive more than if you grow them outside. Though greenhouses have dived in popularity, most likely due to their often less attractive appearance, there is no contest regarding the best plant growth conditions. If you're willing to spend a small fortune, there are modern greenhouses on the market to house your veggies garden and make a trendy style in your yard at the same time.