What to put instead of a Christmas tree?
Seeks to be more original and break by including natural alternatives in the decoration, ranging from ideas of trees on the wall to wooden Christmas trees.
It's time to break traditions a little for next Christmas. There is nothing better than building ideas for assembling a Christmas tree, using simple materials such as wood, dry branches, old structures, recycled materials, felt, and the ecstasy of imagination. Here we suggest a lot of ideas inspire you.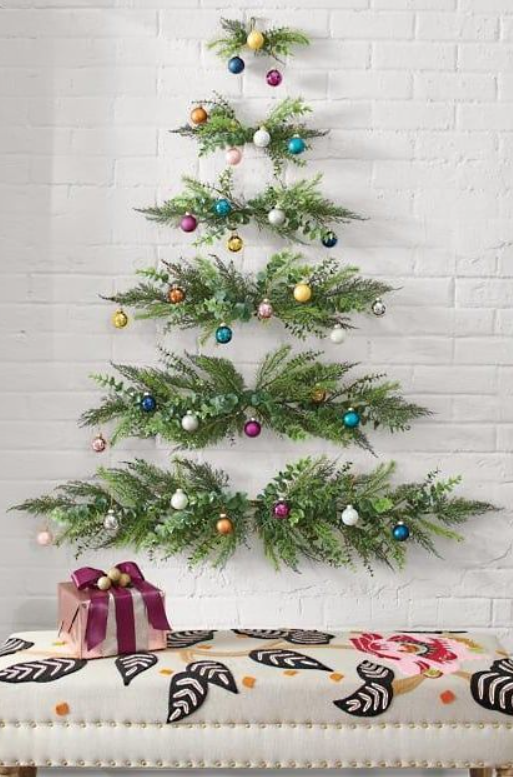 Suppose you are bored of the classic fir trees for Christmas or want a cheaper alternative. In that case, you are in luck because today, the Christmas trend is to stick wooden trees on the wall that looks fantastic, not to mention those ideas of Christmas trees on the border with lights that radiate magic and do not require any other details.
In addition to experiencing a different Christmas, if you want a more sustainable idea to mount the Christmas pine, you are in the right place because the pictures for this year's Christmas tree are ecological.
What do I do if I don't have a Christmas tree?

Christmas is coming, and with this beautiful date, many celebrations involve festivities, fun family gatherings, and the exchange of lovely gifts. Christmas decoration plays a fundamental role in ensuring the celebration's success. The Christmas pine is the central ornament that indicates the coming great party. That is why we must pay close attention to the decoration and consistently seek to look original.
Christmas tree ideas on the wall.

If you have a small apartment or are simply looking for a more authentic way to mount the Christmas tree, I suggest you do it using the wall of your living room. This idea saves space and avoids saturating transit areas in tiny houses. There are many options to mount this ornament, from Christmas trees on the wall with lights to those mounted on wooden branches, lights, and spheres, creating an excellent design.
With spheres and Christmas lights.

It is time to imagine and bet on a design that is totally out of the ordinary but still looks fantastic. Assemble the tree on the wall using green foliage and a touch of Christmas balls and decorations, creating a pretty touch through the lights and ribbon on the top of this original tree.
If you have wondered how to make a Christmas tree on the wall without nails, bet on this idea: On the wall of your living room, add Christmas lights creating the shape of a fir tree, trying to hold the sunshine with a bit of hot silicone and at the same time To finish, add the spheres to give a nice touch to this original alternative.
If you are looking for an original design, you can create a wall tree with artificial foliage using spheres in gold and red that will give this craft a unique touch; Remember that creativity is about connecting things, so don't be afraid to merge two or more elements when you're creating Christmas crafts.
Wooden Christmas Trees

If you think that wooden Christmas trees don't look great, right now I'll prove you wrong; Get pieces of board and mount them on the wall of your room, adding spheres, pinecones, and all kinds of Christmas decorations that will give that special touch to Christmas this year.
I bet you have fallen in love with this original idea that also turns out to be one of the most ecological proposals.
Assemble wooden sticks and give a rustic air to the Christmas decoration of your home, using reindeer, spheres, and Christmas lights typical of a Nordic style; This fusion is very original and the best thing is that it really is very easy to create a wooden Christmas tree for the wall, don't you think so?
Christmas tree in the corner.

Improvise and seek to be authentic! Do not close your mind to new possibilities. If space is a problem at home, bet on a corner wooden Christmas tree, which joins one piece with another, thus forming the shape of the typical fir tree. Remember decoration, mount lights, and different detail.
Christmas trees on the wall with lights look fantastic, especially at night when they turn on and magically illuminate the interior of your home; If you have asked yourself over and over again what to put instead of the Christmas tree, here is the answer, so get to work, it is time to mount only lights to illuminate Christmas.
A felt Christmas pine.

With felt, we can also make one of the most original ideas that replace the typical Christmas pine tree; make a kind of fir tree and create, with the help of molds and patterns for Christmas, some cute spheres of Santa Claus, Mrs. Claus, penguins, reindeer, elves and more. This idea looks very fun and is one of the simplest when you want to improvise Christmas with a tree on the wall.
Merge felt, spheres, and printed Christmas figures to create another version of a Christmas tree on the wall, placing each ornament one by one, trying to follow the original shape of the fir tree. Remember that the idea is only a proposal, but in the end, you can merge two or more of the previous ideas so that this version looks more original.
Original Christmas pine trees decorated with branches

Let's set up a Christmas tree with dry branches and lights, creating an icy and magical atmosphere in our home. Here you will have to use a base so that the units are standing and some Christmas spheres hanging on them to give it that Christmas touch; white trees with dry branches look great too.
For a more colorful design, I propose you create dry strings decorated with lights, color, and ornaments to create a different version that completely breaks with the traditional scheme that we used to have every Christmas. Place a firmer base if the tree you have chosen is vast, and take care of every detail, as one complements the other to create magic.
A Christmas tree with old stairs
Anything can be used to set up an original Christmas tree at home this year. If you do not want to complicate your life too much and you are actually looking to improvise a Christmas pine, I suggest you do it on the stairs.
How to make a homemade wooden Christmas tree
If you thought that the stairs were the only option we had to mount a Christmas tree with wood, right now, I would prove you the opposite. For this idea, you will have to assemble a kind of base with wooden sticks, integrating four beams that come together at the tip to be able to fix this very original version of the Christmas pine to the floor.
You can decorate this fun tree with artificial foliage, lights, and spheres.
Mix the wood, the Christmas lights, and spheres to create another version of the cheap Christmas tree, using a kind of triangle that will be fixed to the floor and in which you can mount the Christmas decorations.
Here is a mix of ideas for you to choose the one like best:
With time and creativity, you can achieve beautiful things without spending so much money; use some of these ideas this end of the year!