See how it is possible to have a beautiful and at the same time functional kitchen regardless of the size in this article that we bring for you; with these images, you will be able to give yourself an idea to transform yours in the best way ultimately.
To optimize your space, combine the colors harmoniously so that the kitchen is cozy and does not look cluttered.
Organize cabinets, so you have everything close at hand. Use tall cabinets that save space. Because thanks to these shelves and cabinets, you can organize the space for pots, kitchen utensils, and other small items.
Beautiful kitchens for small spaces.

Combining white colors will always be a good idea to make it look neat and harmonious.
Do not forget that minimalism is today; using its principles in kitchen design, and you can quickly provide order and cleanliness to your mini kitchen.
In a mini-kitchen, it is advisable to install low-height refrigerators, allowing them to occupy the space above them and make them more functional.
To visually expand the space, it is recommended to use mirrors and glass panels in the interior to create the illusion of a larger room.
A corner kitchen will help free up space. Everything you need will be close at hand, including the stove, refrigerator, and sink.
Another effective and less risky option is to use light colors. Choose light colors on walls and kitchen cabinets, and make sure that the surface of the cover is easy to clean.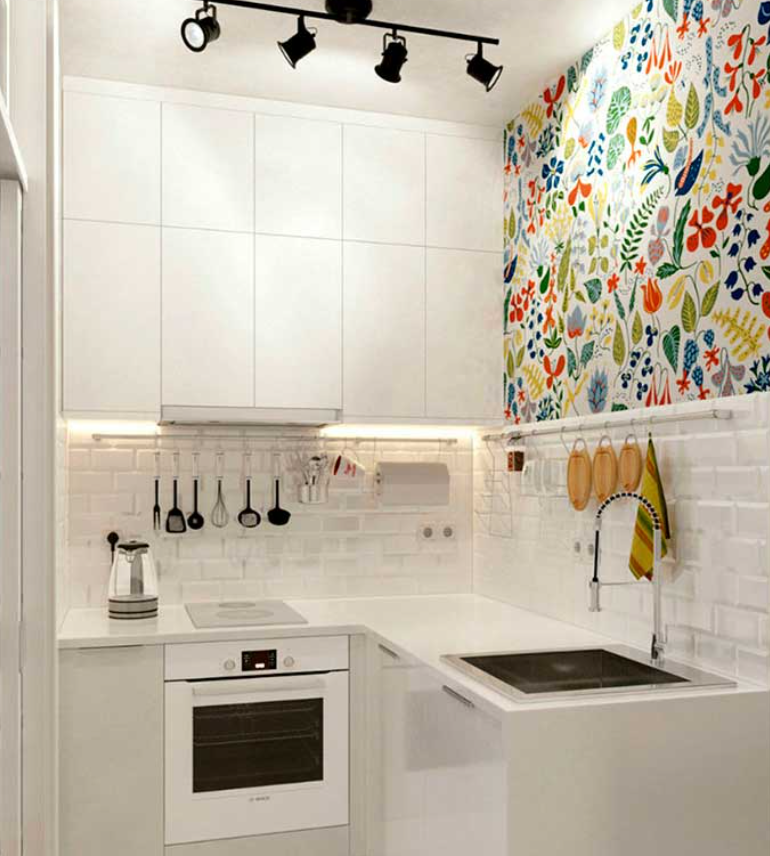 Choose custom-made furniture, this will save you resources, and you will be able to accommodate the maximum amount of furniture necessary.
Ensure the lighting is adequate for your mini kitchen to be a cozy space.
Window shades may not be appropriate, preferably modern roller blinds instead.
These blinds will not get dirty quickly and will take up less space.