Designed: Baahouse + Baastudio
Area: 80 m²
Year: 2016
Details: 2 Bedrooms, Bathroom, Kitchen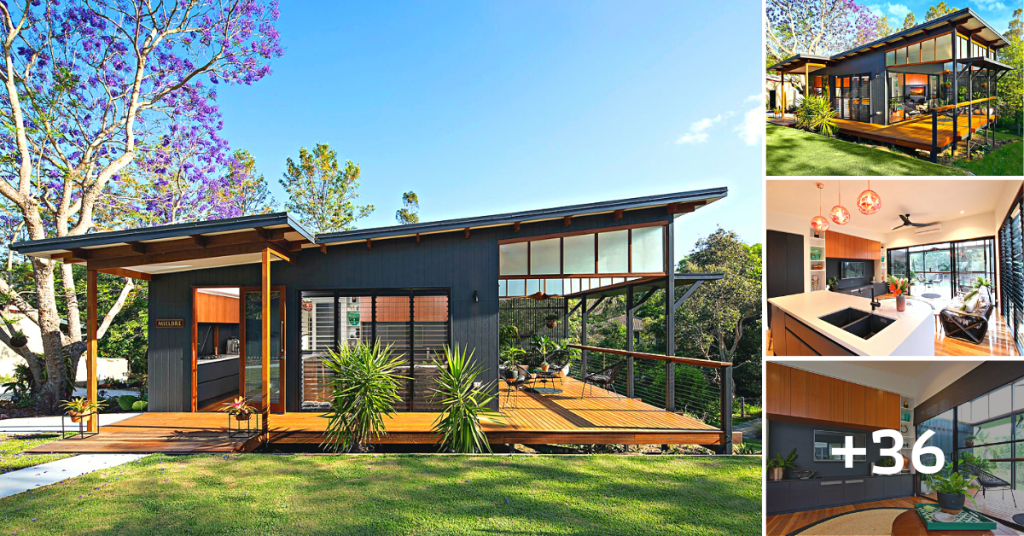 The house was designed for a hip/elderly couple who wanted to live on the same property as their kids but wanted a little retreat to live in and enjoy their retirement years.
The brief for the project was to design a small, tropical, modern house that utilizes the steep site but also gives the owner a fantastic home where they can enjoy their lifestyle.
Having large open decks was an essential element of the design. Because of the subtropical climate, the decks become another indoor–outdoor room that the owners can enjoy.
The large front deck flows into the main living area, and with the sliding doors open, the two spaces merge to create a sizeable enjoyable space that connects inside and outside together.
The existing house on site had vertical textured cladding boards, so the clients wanted to use the same cladding but to make the house a dark color, so it disappeared into the leafy surrounding, and so the form of the structure was a statement.
With Hardwood outriggers, handrails, and vertical timber battens, the house has become a stunning tropical form of modern architecture that will, over time, blend into the surroundings but hold its style for years to come.
One of the feature materials is fiberglass transparent cladding on the deck area.
The fiberglass is semi-transparent, which creates a lovely sense of light inside and from the outside, giving the house a water-like appearance glow. At night, the house becomes like a Japanese lantern that glows in the dark.
The inside finishes consist of Spotted Gum Hardwood timber flooring, the same as the outside decking. The spotted gum flooring wraps up the kitchen island bench.
The Feature kitchen bench is raw concrete Caesarstone that compliments the colors of the dark grey laminate and the natural colors of the timber flooring.
With the use of timber veneer in the kitchen and tv unit, the blend of materials works together to create an inviting space.
Credit: architizer