Cool and raw colors dominate the industrial loft-style bathroom. The characteristic elements are brick, concrete, steel, or visible pipes and cable.
When arranging a loft bathroom, you should give up ornaments and decorations. The decoration should be performed with unusual, designer furniture with an attractive, original form and unique materials and colors.
The fabulous decor can be complemented by a floor made of natural wood or stoneware imitating a board.
Different shades of gray will be perfect for an industrial loft-style bathroom as it resembles concrete and metal. Generally, the industrial style oscillates around grays and blacks.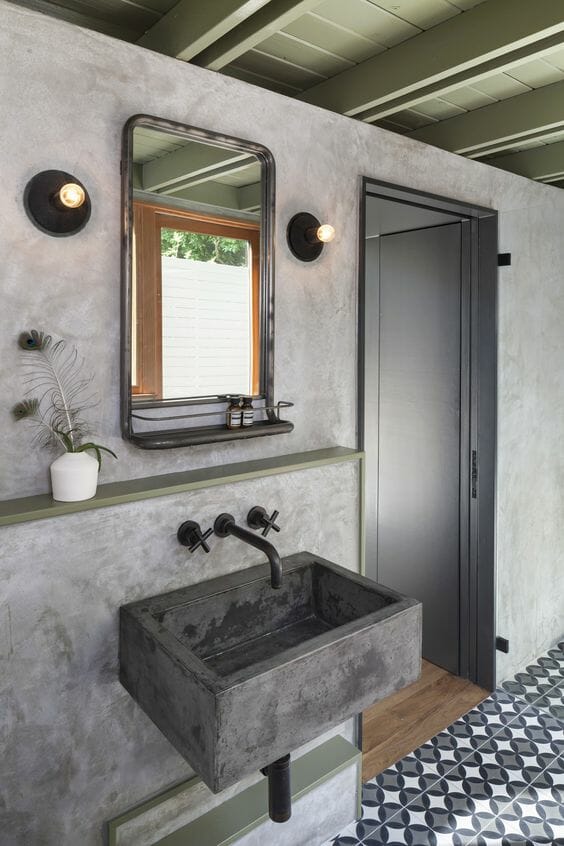 If you want to liven up the room more, you can try colors such as brick red, khaki, rusty orange, or dark blue. As for the use of materials in the bathroom, these will be raw materials such as metal, concrete, red brick, and natural materials like wood.
An industrial-style bathroom does not have to be bathed only in gray. An ideal alternative to this color is white with a cool hue. You can use it anywhere in the room or only on a selected part of the wall.
You can break the white with the warmth of wood and black. Apart from concrete, brick is a characteristic material in industrial interiors.
Contrast it with natural gray or cool white. To prevent the brick wall from overwhelming the small bathroom, cover it with snow-colored paint.
The exposed plumbing will be a wonderful decorative element as the copper pipes are very industrial. They are reminiscent of old factories. That is why they fit so well with the character of interiors inspired by industrial spaces.
To gain an industrial loft-style bathroom, create a visible installation – eye-catching pipes and metal structures made of copper or stainless steel.